In case you haven't heard (!) – it's election time. The season has been particularly intense this year. One approach for reaching voters and potential voters is through influencers – individuals who have built up a relationship with devoted fans who take cues from them. Observing how these powerful people affect behavior and outcomes can be very relevant for those of us working for environmental behavior change.
Our environmental campaigns often feature people who share likes, interests and world view and demonstrate the behavior we want to see. We may target occasional gardeners to get them to use less toxic pesticide, or campers to get them to use recyclable propane containers. These folks often take cues from someone they admire, who shares their interests and values – that is, from influencers.
This article in Behavioral Scientist notes that (in general) influencers don't have universal influence; but, they have impact and authority with those in their group who identify with them.
The article suggests:
One way to strengthen a group identity is to help people understand the causal connections between that group and other important aspects that people use to define themselves. Peaceniks should be told how important belonging to the group is to fostering world peace; football fans need to associate their local club with achieving football glory.
A recent CNN article gave several examples of nonprofits working to encourage influencers to get young people to register to vote. Being a successful influencer means you identify with the population you are trying to reach, and you are comfortable with the channels (such as TikTok or Animal Crossing.)
Influencers don't have to have millions of followers:
"We've found a way to build a program of influencers big and small; most have around 1,000 followers. Makeup bloggers, Greek life on campus, doggie Instagrams, drag queens and everyone in between have been really receptive to us sliding into their dm's [direct messages] to save democracy. Our influencers are typically nonpolitical and have audiences who trust them, so when they are providing links to register or pledge to vote we see really great engagement levels," said Heather Greven, communications director at NextGen America.
And then there are the questionable incentives that some influencers offer their millions of followers in return for an action. The YouTube star David Dobrik  got 120,000 people to register to vote…by offering a sweepstakes to win a Tesla! David got the idea from a fan, who posted the idea on TikTok. Ironically, as a Dreamer immigrant from Slovakia, Dobrik cannot vote himself. 
What does this have to do with those of us working for environmental behavior change? The advantage of engaging with influencers for waste reduction or energy savings are the same as those to encourage voting: find and work with influencers – not necessarily eco-people – who already have a relationship with a target group and help them (don't tell them to) create behavior change. But maybe cool it with the extrinsic motivation – no promising folks an electric car if they give up single use bottles…!
With the effects of COVID-19 spreading across the globe and the entire state of California required to stay at home as much as possible, we are living in a truly challenging and unprecedented situation. What does this mean for Gigantic's clients, mostly local government agencies and non-profits involved in environmental behavior change? Business as usual seems a little unrealistic. How can we live into the needs of our audiences to provide information and encouragement while still living our mission?
Local Government has a particular opportunity to choose a friendly and positive tone with messaging:
"We do real, important stuff." Emphasize essential services like waste collection that are ongoing, rain or shine. Point to specific workers who are getting it done.
"We are your neighbors." We live here, too, and want the best for the community.
"We're In This Together." Has never been more true. While this message does not move everyone (no message does), now is the time to stress universal cooperation, as no one is immune or untouched by COVID-19's effects.
Communicating with the public via websites, email or social media posts is still a possibility and an opportunity. Of course, the tone of the messages is important and may need to be adjusted during this period. We all know this is a high-stress, challenging time. This is no time for playing the blame game (e.g., asking people to avoid excess packaging by ordering online). We need to put aside some of our favorite themes (such as promoting the use of reusable cups).
Messaging is more important than ever, and already we are seeing how poor messaging can have consequences. For example, we hear a lot about "social distancing" — an accepted term in epidemiological circles — that is not immediately understandable or resonant with the general public. Social what? One could assume it means "staying off social media" rather than "staying six feet apart." Perhaps "physical distancing" would be more appropriate. In these times we want to encourage stronger social bonds – checking on neighbors and families online, for example – while maintaining a physical distance. The group March for Science recently summarized tips in a Facebook post:
The communication best practices of clarity, specificity and simple language apply now more than ever. The WHO's recent ad on Google's home page does a good job:
One thing we know is that people are turning to social media as an alternative to chatting by the office coffee maker. It is still a good time to converse with our constituents! Topics for posts revolve around our "new normal" here in California:
What AREN'T people doing?
Going out to bars, clubs and restaurants
Spending time at the office
Planning trips/parties/picnics
What ARE people doing?
Cooking
Working from home
Home schooling the kids
Gardening
Spring Cleaning
Shopping online
Using products, such as wipes and gloves, that they may not have used before (see image below.)
There are plenty of ideas for messages now:
Yard waste goes in the green cart
Avoid garden chemicals – hand weeding can be very soothing
Planning meals (so many meals!) to avoid food waste
Wipes belong in the trash
Take time to sort
Appreciation for waste haulers and others working during this crisis
Calming pictures of local landmarks and nature
Of course, if COVID-19 becomes even more dire, there may come a time when cheerful posts about recycling gin bottles strike a false note. As always, those of us who communicate with the public need to live into what our audiences are experiencing and choose when or if it's appropriate to communicate about particular topics.
From the whole team at Gigantic Idea Studio: Be well!
As we move full speed into 2020, I finally took a moment to reflect on the past 10 years (of my 18 years as founding partner!) here at Gigantic Idea Studio. I noticed that our portfolio of projects from the last decade reflects the evolution of recycling and pollution prevention programs locally and worldwide.
Feeding Food Scraps to Compost
In the early to mid 2010s the focus of residential outreach turned to food scraps. Many of our projects assisted local agencies with promoting participation in food scrap recycling programs—getting food and food-soiled paper into green carts so they can be composted instead of landfilled. These programs reduce waste and greenhouse gases—a win-win. Binny the Green Organics cart, a mascot we created for Livermore Recycles in 2014, has worked tirelessly to win the hearts and minds of residents to help them overcome the "ick factor" and compost their organics. We have watched Binny become a local star with many adoring fans!
The City of Palo Alto started a food scraps collection program in 2015. Gigantic helped promote this new practice through a character named Zak Zero, and by featuring local residents as peer messengers. Palo Alto now composts 2,300 tons of food scraps a year, saving 670 metric tons of GHG. And 80% of households participate, at least partially!
Sorting Out Recycling
As California ramped up recycling and composting requirements, the last few years of the decade saw the recycling world turn upside down. China's National Sword policy impacted markets and affected recycling programs. In response, much of our recent work has included ads, bill inserts, articles, and videos to promote the message that sorting recycling properly is a serious matter—and that recyclables should be empty, clean and dry. Our most comprehensive campaign on this topic, Recycle Ready, was done for Palo Alto, and you can see it here.
In the past few years, we've helped StopWaste develop content to address the hot topic of food waste—a potent greenhouse gas contributor in Alameda County. Our work with StopWaste over the last decade also supported the implementation of a mandatory recycling and composting ordinance—also a trend of the last decade—as local and state agencies flexed the power of public policy to help reach waste reduction goals. As we enter 2020, we are proud to be part of the team working on food waste reduction in Santa Clara County.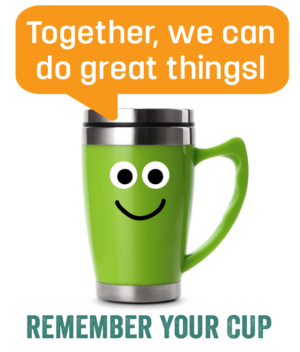 Cutting Single Use Items
Another trend in waste reduction—the reduction of single-use disposables— is another pressing issue gaining traction in the media, as coverage of marine debris and coastal litter has gone mainstream. Cities in the Bay Area and beyond are responding with foodware ordinances, plastic straw bans and produce bag requirements. We've worked to help promote efforts to reduce use of disposable foodware with StopWaste, County of Santa Clara and most recently, supporting the new foodware ordinances in the City of Palo Alto.
Connecting Behavior Change to Clean Water
Lastly, we look back fondly on the decade that saw our relationship with Clean Water Program Alameda County grow. In the early 2010s we focused on general stormwater education as well as integrated pest management topics related to gardening. But with the explosion of awareness of the Pacific Garbage patch and wildlife harmed by marine debris, the severity of the issues facing our oceans gave birth to our beloved mascots Fred and Izzy. With three video campaigns under our belt, we look forward to creating a new video on gardening in 2020. We were happy to expand work on these topics with "YardSmart Marin," a new organization aiming to reduce pesticide use, and with City of San Rafael to reduce illegal dumping. In 2020, we look forward to piloting a litter reduction campaign as well.
Here's to the next decade of engaging the public in programs for a healthier world!