As we move full speed into 2020, I finally took a moment to reflect on the past 10 years (of my 18 years as founding partner!) here at Gigantic Idea Studio. I noticed that our portfolio of projects from the last decade reflects the evolution of recycling and pollution prevention programs locally and worldwide.
Feeding Food Scraps to Compost
In the early to mid 2010s the focus of residential outreach turned to food scraps. Many of our projects assisted local agencies with promoting participation in food scrap recycling programs—getting food and food-soiled paper into green carts so they can be composted instead of landfilled. These programs reduce waste and greenhouse gases—a win-win. Binny the Green Organics cart, a mascot we created for Livermore Recycles in 2014, has worked tirelessly to win the hearts and minds of residents to help them overcome the "ick factor" and compost their organics. We have watched Binny become a local star with many adoring fans!
The City of Palo Alto started a food scraps collection program in 2015. Gigantic helped promote this new practice through a character named Zak Zero, and by featuring local residents as peer messengers. Palo Alto now composts 2,300 tons of food scraps a year, saving 670 metric tons of GHG. And 80% of households participate, at least partially!
Sorting Out Recycling
As California ramped up recycling and composting requirements, the last few years of the decade saw the recycling world turn upside down. China's National Sword policy impacted markets and affected recycling programs. In response, much of our recent work has included ads, bill inserts, articles, and videos to promote the message that sorting recycling properly is a serious matter—and that recyclables should be empty, clean and dry. Our most comprehensive campaign on this topic, Recycle Ready, was done for Palo Alto, and you can see it here.
In the past few years, we've helped StopWaste develop content to address the hot topic of food waste—a potent greenhouse gas contributor in Alameda County. Our work with StopWaste over the last decade also supported the implementation of a mandatory recycling and composting ordinance—also a trend of the last decade—as local and state agencies flexed the power of public policy to help reach waste reduction goals. As we enter 2020, we are proud to be part of the team working on food waste reduction in Santa Clara County.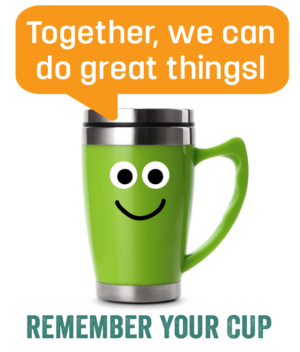 Cutting Single Use Items
Another trend in waste reduction—the reduction of single-use disposables— is another pressing issue gaining traction in the media, as coverage of marine debris and coastal litter has gone mainstream. Cities in the Bay Area and beyond are responding with foodware ordinances, plastic straw bans and produce bag requirements. We've worked to help promote efforts to reduce use of disposable foodware with StopWaste, County of Santa Clara and most recently, supporting the new foodware ordinances in the City of Palo Alto.
Connecting Behavior Change to Clean Water
Lastly, we look back fondly on the decade that saw our relationship with Clean Water Program Alameda County grow. In the early 2010s we focused on general stormwater education as well as integrated pest management topics related to gardening. But with the explosion of awareness of the Pacific Garbage patch and wildlife harmed by marine debris, the severity of the issues facing our oceans gave birth to our beloved mascots Fred and Izzy. With three video campaigns under our belt, we look forward to creating a new video on gardening in 2020. We were happy to expand work on these topics with "YardSmart Marin," a new organization aiming to reduce pesticide use, and with City of San Rafael to reduce illegal dumping. In 2020, we look forward to piloting a litter reduction campaign as well.
Here's to the next decade of engaging the public in programs for a healthier world!